Medical Library
Loading...Please Wait
Osteoporosis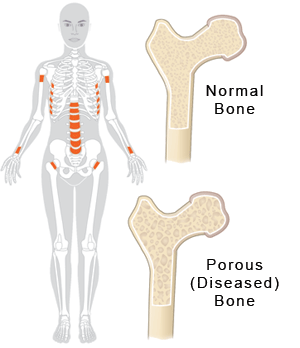 Osteoporosis is a disease in which bones become fragile and more likely to break. If not prevented or if left untreated, osteoporosis can progress painlessly until a bone breaks. These broken bones, also known as fractures, occur typically in the hip, spine, and wrist.
Osteoporosis is a major public health concern for an estimated 44 million Americans. In the U.S. today, 10 million individuals are estimated to already have the disease and almost 34 million more are estimated to have low bone mass, placing them at increased risk for Osteoporosis.
The Osteoporosis Facts *
Each year, about one-third of individuals 65 years of age or older will fall, and some will be disabled by the broken bones that can follow.
Eighty percent of those affected by Osteoporosis are women.
One in two women and one in four men over age 50 will have an Osteoporosis-related fracture in their lifetime.
Osteoporosis is responsible for more than 1.5 million fractures annually.
Twenty percent of those affected by Osteoporosis are men.
The estimated national direct expenditures (hospitals and nursing homes) for Osteoporotic and associated fractures was $17 billion in 2001 ($47 million each day)
The rate of hip fractures is two to three times higher in women than men; however the one year mortality following a hip fracture is nearly twice as high for men as for women.
A woman's risk of hip fracture is equal to her combined risk of breast, uterine and ovarian cancer.
At six months after a hip fracture, only 15% of hip fracture patients can walk across a room unaided.
* Source: National Osteoporosis Foundation
Although there is no cure for Osteoporosis, there are steps you can take to prevent, slow, or stop its progress.
Treatment Recommendations:
A balanced diet rich in calcium and vitamin D.
Weight-bearing exercise.
A healthy lifestyle with no smoking or excessive alcohol intake.
Appropriate testing and prescription medication.
While your doctor plays a key role in diagnosis, bone density testing, and prescribing medications, a physical therapy program helps provide you with a complete treatment solution.
Physical Therapy is Important
With physical therapy you will experience the following:
A personalized posture program, weight-bearing and resistance exercise program.
Education regarding Osteoporosis, proper nutrition, and calcium and Vitamin D intake recommendations
Risk factors and fall prevention information.
Possible Treatments
Possible Treatment Goals
Improve Fitness
Improve Function
Optimize Joint Alignment
Improve Muscle Strength and Power
Improve Range of Motion
Improve Relaxation
Self-care of Symptoms
Improve Safety
Additional Resources
Disclaimer
The information in this medical library is intended for informational and educational purposes only and in no way should be taken to be the provision or practice of physical therapy, medical, or professional healthcare advice or services. The information should not be considered complete or exhaustive and should not be used for diagnostic or treatment purposes without first consulting with your physical therapist, occupational therapist, physician or other healthcare provider. The owners of this mls accept no responsibility for the misuse of information contained within this website.